My SBI! Story:
Using Site Build It!
to Build Dreams
My goal with this page, besides giving you my background story and how I got to where I am today, is to provide you with "progress updates" on my SBI! experience. You see, I'm very excited about it, and I want you to be able to follow along with my progress.
As I mentioned on my home page, this site is still very new, and my focus is to bring you the top-quality information you need to help you make informed decisions about adopting (hopefully) and caring for your canine companion.
I am not a Web designer or a Search Engine Optimization guru. I know only snippets of HTML (such as how to make something bold or italic). I don't claim to understand Google's algorithms or how they "spider" keywords on pages to rank Web sites.
Not only do I not know these things, I don't want to know them. They are not my passion. My passion is dogs, and that's all I want to concentrate on. Dogs. I believe that all dogs deserve to be happy (hence the name of my site, The Happy Dog Spot).
The thing is, because I don't know all these other things about Web design and Web marketing, I really had no idea how I could get my message out on the Internet, which by now we all know has the best potential for reaching the widest audience.
Also, since I also work full-time, I definitely don't have the time to spend on learning all these things. Even if I did have the time, I would never want to. Ugh!
I am very creative and right-brained, so I can't imagine anything more boring than having to spend time learning all those "techie" things. I'd rather leave that to the people with the pocket protectors (no offense if you have a pocket protector, it's just not me!).
That's why I consider myself incredibly lucky to have stumbled upon Site Build It! (SBI!).
SBI! was established by Dr. Ken Evoy in 1997. His series of books have helped hundreds of thousands of entrepreneurs and small businesses.
But Dr. Evoy realized that the average business person needs more than some information in books, no matter how good. They need a step-by-step process and an all-in-one Web site hosting, building and marketing suite of tools that enables them to execute the process flawlessly. To this day, SBI! is unique, and I'm very grateful to have found them.
I first heard about SBI! while perusing the Web site of a personal development coach whose opinions and advice I trust, and as soon as I began exploring the company on my own, I knew I'd finally stumbled upon what I've been looking for all these years.
You see, I'd tried building a Web site before (two, actually). What a disaster (and an expensive disaster at that).
I'm really embarrassed to admit it, because I consider myself to be a very smart person, but in my desire to earn extra income I started to believe some of these "get rich quick" people who tell you all you have to do is slap up some sales Web site and the orders will start flocking in.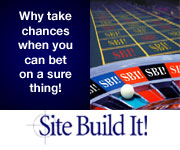 What a mistake that was!
To begin with, I picked products to sell just because I thought they could make money (garden gnomes or leather lingerie, anyone?). Then, since I knew absolutely nothing about building or marketing a Web site, I hired people I thought I could trust.
Again: Big mistake.
I signed up for Web hosting at a hefty per-month fee, and that was all I got – Web hosting. Then I decided I needed to "optimize" my sight (whatever that meant), so I hired someone overseas from a popular freelancing Web site. Several months and $3,200 later, I had about seven visitors to my site per day, and had sold nothing.
That's when I decided, in the very wise words of Ken Evoy, founder of SBI!, to "keep it real".
The more I started learning and reading about SBI!, the more I realized how I had been looking at things all wrong.
SBI! made everything clear for me (finally!). They helped me to understand that the only way to build an online business (or any business, for that matter) is to do what you love.
Find something you are passionate about and that other people are interested in, and use your passion and knowledge to build your business!
"That's easy," I thought. I'm passionate about dogs. And I'm knowledgeable about dogs.
But how's that going to get me anywhere?" I wondered.
Well, I didn't wonder for long! SBI! had all the answers. Soon it all made perfect sense to me.
Take a look at the SBI! Video Tour to learn more about how it works .
I could actually build a profitable Web site based around my passion (dogs), without any technical knowledge or Web marketing skills.
I would be able to concentrate on my passion and develop the content, and SBI!'s all-in-one set of software tools would take care of the rest – from building the site to optimizing it to marketing it.
"Now, that's cool!" I thought.
Then, I quickly figured, "this must cost a fortune" (don't forget, I'd been taken for thousands of dollars already, and I'd promised my husband I would stop wasting all that money).
Boy, was I ever wrong.
The yearly fee for SBI!'s all-inclusive services was a fraction of the cost (less than 10%) of what I'd spent on those go nowhere gimmick sites and phony self-described Web marketing "gurus".
Between the trusted recommendation from the personal development coach, all of the research I'd done on my own at SBI!'s site and the incredible value, I couldn't click the button fast enough to sign up!
You see, even though SBI! provides "one stop shopping" for anyone who wants to build a Web site based around their passion, they write all of their own software, which keeps the cost of their product low and ties all the tools into one proven, step-by-step system that results in success.
This means that you don't need to have any Web design or programming skills, and you don't have to have a clue as to how to market an online business (that's what you'll soon learn an SBI! site is – a business).
You don't even have to know yet what your perfect topic is. SBI! even has amazing tools to help you figure out, logically and step-by-step, what you're passionate about that can also be profitable (after all, if you're passionate about a topic but nobody else is, then it won't make much of a business!).
All you need to succeed with SBI! is what Ken Evoy calls "BAM: Brains and Motivation".
From determining a (profitable) niche topic to building your site to getting traffic to making money (monetizing) with it, SBI! guides you every step of the way. And the best part is, you get to do what you love and forget about all the boring tech stuff that goes along with it.
And you don't have to learn the (expensive) lessons that I learned, trusting people who said they were doing what was best for me, when all they were really doing was taking my money. Yes, I admit it: I was naïve. But I learned. And I want to save you from going through the same thing.
SBI! is the only company that can actually provide proof of their success.
How cool is that? No other company proves it – and if they could, they would!
So, how do people make money with SBI!, if they're giving away free information?
There are lots of ways, from Google Adsense to affiliate programs to selling e-books and courses to selling your own or other people's products.
The best part is that you're giving your customers what they want while you are also able to make a nice income. It's definitely a win/win situation!
As I mentioned, since I just started my Web site, I haven't even gotten to the "monetizing" part yet (that's right, you do not just jump in and start making money right away). But as you see my site progress, you'll notice Google Adsense ads and other ways I will be making money, while still being able to do what I love -- providing tons of free information on how to take the best care of our canine companions.
You see, the days of my believing in "get rich quick" Web sites are over. SBI!'s mascot is, appropriately, the tortoise.
The tortoise approach symbolizes SBI!'s steady-and-sure approach. It's definitely not GRQ (GetRichQuick) and keeps you from getting distracted by false promises or dead-end tools and strategies that end up costing more money (just like what happened to me).
Think of it as a simple, direct, hype-free path that leads to success.
Slow and steady, providing real value to customers, is the real way to build a real online business. It is, in fact, the only way.
Don't make the same mistake that I did and lose thousands of dollars to people peddling empty "get rich quick" promises on the Internet. They're the only ones getting rich quick!
Check out these case studies of successful SBI!ers, people like you and me who have built real online businesses. These are the people I intend to emulate from now on, thanks to SBI!
Do I work hard on my Web site?
You bet!
But you know what?
It doesn't feel like work at all.
When I am writing about my passion, and helping people to become better "dog parents", that is when my heart races and my adrenaline gets going and I am into the Zen of SBI!
It's a lot more rewarding than sitting in front of the TV, watching the latest reality show!
I'm living my own exciting reality show, thanks to SBI!, and I'm looking forward to the months ahead when I can continue to share the progress of this exciting journey with you.
Oh, and the best part of SBI! is that it's totally risk free (unlike the Search Engine Optimization "expert" I wasted thousands of dollars on).
SBI! has a full money back guarantee, and that's for a very good reason. They are the real deal.
Go ahead and try it. You have absolutely nothing to lose, and everything to gain.
I hope that this information can help you to realize your dream of building an online business based on your passion, just as it is doing for me.
Sincerely,
P.S. -- If you'd like to go straight to the Order Page, here's the link. Remember, there's absolutely no risk, as SBI! has an amazing money-back guarantee!
Return to the Top of the My SBI! Story Page

Return to The Happy Dog Spot Home Page